John Brown's Body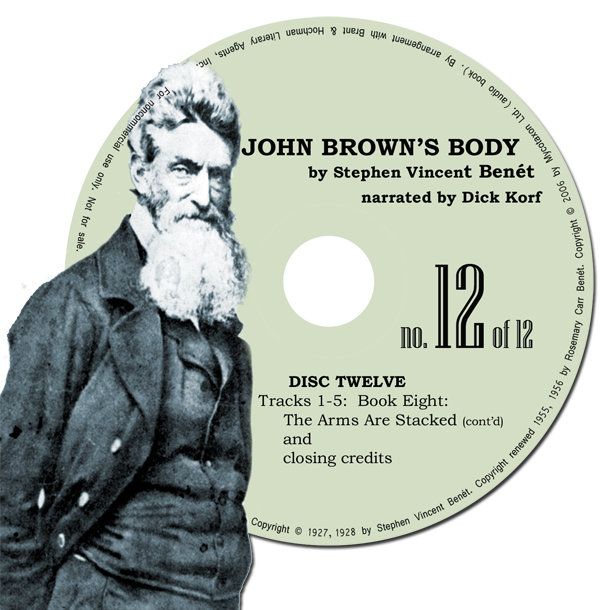 An unabridged reading of the 1929 Pulitzer Prize-winning book-length poem, John Brown's Body, narrated by Dick Korf.
View liner notes [pdf].
For a copy of the limited edition 12-CD set, contact info@mycotaxon.com.
Dick Korf's thoughts about this audio book
This recording was made in 2006, a last gasp of an 80-year-old lifelong actor, the culmination of a 20-year dream. It is dedicated to my actress daughter, Mia Korf, for encouragement, and to my wife, Kumi, for everything.
I grew up as a ravenous reader, encountering Steven Vincent Benét's John Brown's Body at the age of 14. I was captivated by the book, which I read and reread over the ensuing sixty-some years. It surely helped form me into an anti-war activist.
My acting career began at an early age at Riverdale Country School in New York City, eventually being cast in major roles in three annual outdoor productions of Shakespeare's plays. These contributed immeasurably to my appreciation of both drama and poetry.
Poetry has a very special place in my heart, and as a youth I began reading and writing poetry. I agree with Stephen Vincent Benét: poetry begs to be read aloud. The skilled poet may embed in his poems frequent "stage directions" in the choice of typographic tools (punctuation, the use of parentheses, italic typeface, paragraphs, long dashes, indentations), and of course changes in meter or rhyme. Benét's use of these tools simplified my narration of the poem; these are treated here as not only readers' but narrator's guidelines.
This recording is intended to bring this important poem about our American Civil War, the most destructive war in American history, to the attention of my family and close friends. While I recognize this is not a professional recording, it remedies the lack of an audio book version in the commercial market.
The theatre has been my lifelong passion. I performed during my college years at Cornell University (where I later became a professor) and I continued to perform and direct in the Ithaca, New York community, both on stage and in radio dramas. While on my final sabbatical leave before retirement I took a fling at off-off-Broadway performances of three plays while in New York City.
I gratefully acknowledge the contributions of my granddaughter, Maïa Vidal, for her vocal solo and Emoretta Yang for a guitar version of the song John Brown's Body. My elder daughter, Noni Korf Vidal, contributed a violin version and is mainly responsible for post-recording production; her unstinting help and my wife Kumi's generosity made this audio book a reality. Pete Wetherbee helped me develop the reading with initial recording sessions in 2002 in San Bruno, CA, and later edited the discs. One of my twin sons, Ian Korf, helped me with recording techniques in 2005 in Davis, CA. My other son, Mario Korf, edited these liner notes.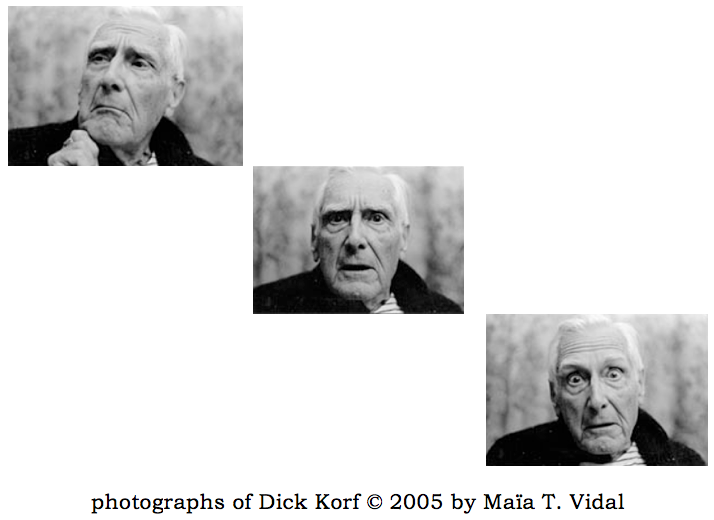 The narrator suggests that if you are interested in the details of the events and real people portrayed and in Benét's use of many unusual words you should look for the 1968 edition published by Holt, Rinehart and Winston, Inc. That edition includes very useful notes by Jack L. Capps and C. Robert Kemble. Those notes greatly assisted his understanding of the text.